We offer you a very cool free family activity on the streets of Sant Cugat! This is a family challenge that we have called Exploring Families, a route through Sant Cugat. A family tourist route through the city, where boys and girls are the protagonists.
Exploring Families, a route for the whole family
You can enjoy different routes that will allow you to discover the main attractions of the city, enjoying the natural and cultural heritage of the town.
What is Exploratory Families, route through Sant Cugat?
Here is the content and history of the activity. These are 5 different themed routes and 17 activities of all kinds that make up a great 15km route. All this accompanied by an activity book so that girls and boys can do it at every point along the route.
We want you to come and discover our time machine and hold on tight, because on this trip you will learn to love the city! We will stop at Modernisme, discover the secrets of the city's museums, the animals hidden in the urban parks and stop at the time of the grandparents.
Where can we pick up the material?
You can go to the Tourist Office to find the material you need to enjoy this adventure. We will give you a map, binoculars, a pencil and a notebook. Do you already have it all? Well here we are!

The Routes, 15 km of fun and 17 activities
The proposal consists of 5 themed routes that spread throughout the town, do you dare to discover them? More than 15 km of family fun!
Now we will tell you one by one the routes, these are designed to be done on separate days. We also want to specify that the spaces with paid entry can be visited from the inside or just observed from the outside, we leave this decision in your hands.
Red Route – Modernism
The first route will look for the diverse Modernism of the city with children in an educational and fun way visiting the Mercat Vell, the Museu Celler Modernista, and the Casa Armet.
Orange Route – The Museums
Violet Route – Journey to the Past
Turquoise Route – The green places
The penultimate route deals with the green spaces of the city of parks, an experience to experience nature as a family. You can visit the Monastery Gardens, Can Vernet Park, Turó Can Mates Park, Ramons Barnils Park, Arboretum Park, Pi d'en Xandri, Pollancreda Park and Torrent Ferrusons Park.
Blue route – The Marathon
Finally, if you do not decide and want to visit all kinds of spaces, we have prepared a super route that includes all the above. With this you will be able to discover all the most interesting and significant spaces in the city.
Don't miss it and come and enjoy Sant Cugat with your family!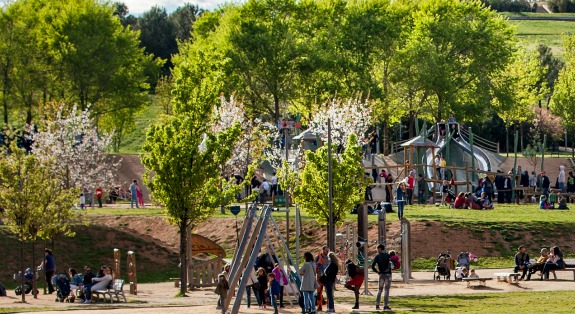 photography by
Mané Espinosa