The Romanesque Cloister, the union of Heaven and Earth.
Building of the Cloister began around 1190 thanks to a donation from Guillem de Claramunt, who wanted to be buried in this place near the tomb of Cugat the martyr. Work was completed by 1220, leaving one of the jewels of the European Romanesque style for posterity.
The master builder of the site was Arnau Cadell, who also directed the works of the Cloister of Girona Cathedral. On a small slab besides a capital in the north-eastern angle there is a depiction of the sculptor working on a capital. This is doubly notable, because never before in the history of Catalan art had the creator of a work signed it or left a self-portrait.
Each wing of the Cloister measures around 30 metres, which gives the courtyard a surface area of around 900 square metres. Each gallery has three sets of five arcades, separated by buttresses. The arcades are supported by two independent columns, of Girona stone. In total, the site has 144 columns and capitals, a highly symbolic number, alluding to the sizes of the walls of Heavenly Jerusalem described in the Apocalypse.
Also symbolic, as well as functional, is the washbasin-fountain located in the centre of the garden, as it evokes the idea of Paradise described in Genesis and the rising water makes the union of Heaven and Earth visible.
 The cloister, organiser of the monastic life
The Cloister is the central area of monastic life. The different rooms of the Monastery are arranged around it. It acts as a great distributor giving access to the different departments in its perimeter. It is also a perfect place for contemplation, retreat and intellectual work.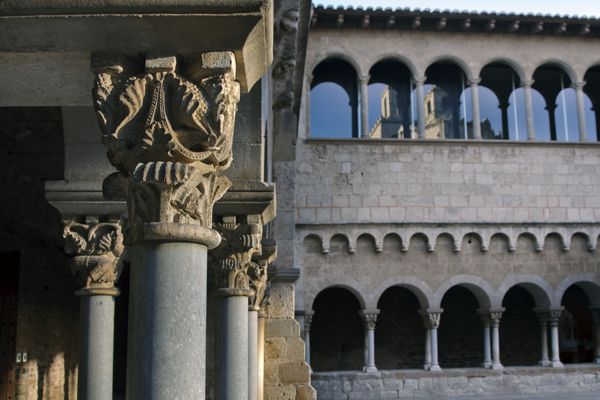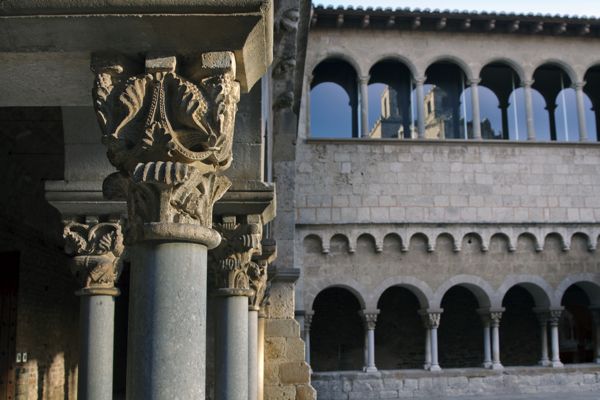 Capitals, support for symbolic images
People often talk about the decoration of the Romanesque capitals. However, it should be remembered that during the medieval period artistic images always became the manifestation of a symbolically represented message. So the capitals in the Cloister of Sant Cugat can be seen as an immense book written in stone.
Iconography of the capitals
The capitals of the Romanesque Cloister of Sant Cugat are an illustration of the iconographic richness of medieval art and the technical expertise of a builder's workshop that provided the Monastery with a sculptural ensemble that is one of the most precious in European medieval heritage.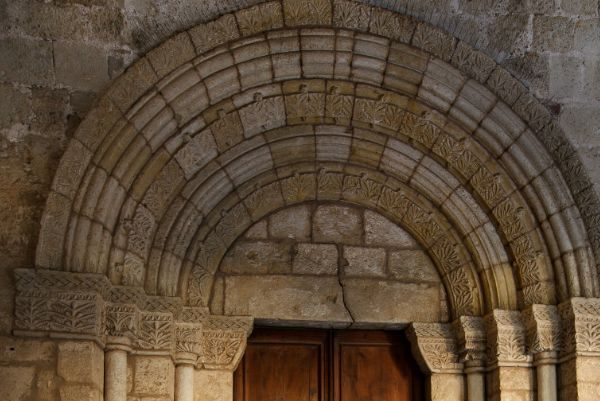 Cloister entrance in the church
The southern gallery of the Cloister features a Romanesque entrance linking the Cloister to the monastic temple. It is an important work both for its structure and vegetal decoration, later than the capitals.