We will discover you which will be the holidays in Sant Cugat in 2022 so that you can organize your agenda. You can already write down the bridges, public holidays and local festivals that will make up this year's calendar – find out!
Which are the holidays in Sant Cugat 2022?
This 2022, there are some new events in the Sant Cugat work calendar. First of all, you should know that the local holidays in Sant Cugat are on the 3rd of  March and 29th of June.
Sant Medir
This year,  March 3rd, the day of Sant Medir (co-patron of the city), falls on a Thursday, the lucky ones may make a long weekend.
Sant Pere (Saint Peter)
Wednesday 29th June is Sant Pere's day, the co-patron of the city, which also coincides with the Festa Major de Sant Cugat del Vallès.
Festa Major de Sant Cugat
This year's largest festival will be June 28 to July 3, a day of pure celebration, tradition and the best music. Do not miss it!
Enjoy nature in Sant Cugat
Our city has a variety of beautiful parks and viewpoints full of greenery, perfect for walking, playing sports or enjoying a moment of relaxation with whoever you want. We also live next to a spectacular natural park, full of magical spots that will make you feel away from the hustle and bustle of the city. If you want to know all the possibilities offered by the park and the city, we recommend using Natura Local, an app full of proposals to discover. We also want to attach all the possibilities of routes and hikes that you can do in the Collserola Natural Park.
Exploring families, 5 km of fun and 17 activities
If you want to treasure good times as a family with a super interesting activity, we recommend that you try our routes for families "Families Exploradores", a whole experience for the entire family where the main players are the little ones. Rediscover the city and its most interesting points in a different way. The proposal consists of 5 themed routes that spread throughout the town, do you dare to discover them? More than 15 km of family fun! You can pick up the route material and get more information at the Sant Cugat Tourist Office, in Plaça d'Octavià.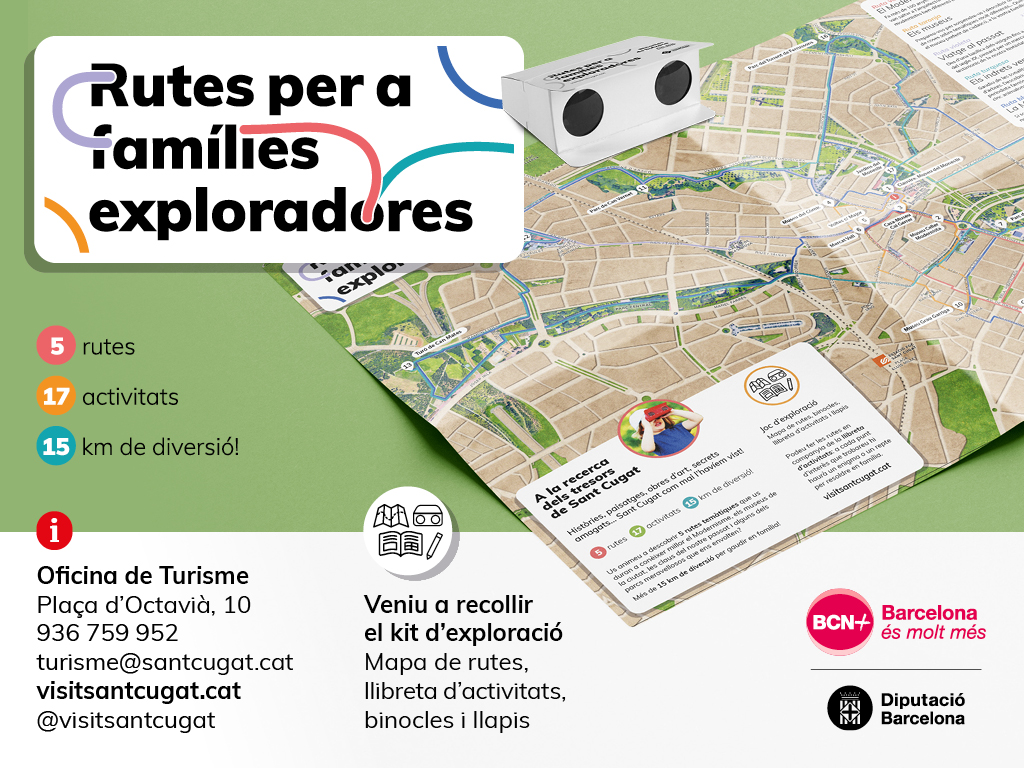 The work calendar of Sant Cugat in 2022
If you want to know all the bank holidays in Sant Cugat in 2022, here is a complete list of them all. Take note:
Saturday, January 1: New Year (statewide holiday)
Thursday, January 6: Three Kings Day (statewide holiday)
Thursday, March 3: Sant Medir (local holiday)
Friday, April 15: Good Friday (statewide holiday)
Monday, April 18: Easter Monday (holiday in Catalonia)
Sunday, May 1: Labor Day (statewide holiday)
Monday, June 6: Withsun (holiday in Catalonia)
Friday, June 24: Sant Joan (holiday in Catalonia)
Wednesday, June 29: Sant Pere (local holiday)
Monday, August 15: Assumption of the Virgin (statewide holiday)
Sunday, September 11: National Day of Catalonia (holiday in Catalonia)
Friday, September 16: festivity only in Valldoreix disctrict (local holiday)
Wednesday, October 12: National Day of Spain (statewide holiday)
Tuesday, November 1: All Saints' Day
Tuesday, December 6: Day of  The Constitution (statewide holiday)
Thursday, December 8: Immaculate Conception Day (statewide holiday)
Sunday, December 25: Christmas Day (statewide holiday)
Monday, December 26: St. Stephen's Day (holiday in Catalonia)
Commercial calendar in Sant Cugat
In the case of shops and other businesses, the work schedule changes slightly. In general terms, you should know that in Catalonia, shops can open a maximum of 8 Sundays or public holidays during the year established by the Generalitat. But, in addition, they will also be able to open 2 more days that the municipalities will establish and, in the case of Sant Cugat, the holidays in which it can be opened to the public are:
January 2 and 9
June 6 and 26
August 15th.
November 27th
6, 8, 11 and 18 December